Currently in our showroom

---
Exclusive insight into the collection Spring/Summer '21
The showroom is now open to customers again! Let our new Spring/Summer 2021 collection inspire you: Sun-kissed Dreams, Safari Vibes and Colour Play!
We will show you a harmonised product selection with refined decoration concepts and effective presentations for the coming Spring Season.
-> Here we give you an exclusive insight into our trend worlds!
Behind the scenes

---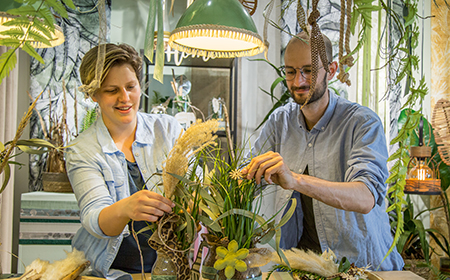 Stylist duo creates showroom decoration
We proudly present you Elisabeth Schoenemann and Oliver Ferchland - professionals in the floristry, winners of diverse awards and decorators in our showroom.
With their broad knowledge and sense for upcoming trends they bring our collection Spring-Summer 2021 to live. Within a few days our showroom transforms into a new world of future trend colours, refined decoration ideas and new, exclusive products.